Excerpts from "Spooky Action at a Distance"- UNITY page 3

---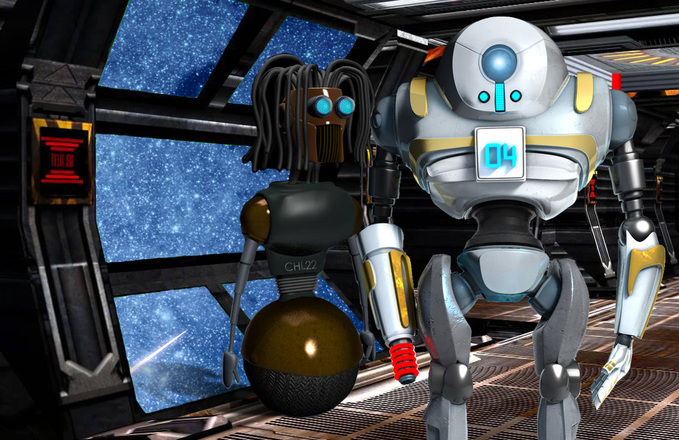 Charlie 22 and Number 4
Barely perceptible but Charlie could hear the faint clank,clank,clank coming down the corridor probably still a good five clicks away. Not for the first time Charlie found him self wondering why the "powers that be" hadn't given the big utility robots a better form of transport rather than shanks pony! He guessed they assumed they were so dumb they'd break it!
But Charlie 22 liked this robot. Number 4 had been assigned the heavy lifting and fitting for Star Seeker and had come to Quartermaster CHL 22( Charlie 22)'s depot for supplies three or four times a day.
The kid asked a lot of questions, Charlie liked that. "Why do you call me kid?" Number 4 would ask. "Because you are a kid" Charlie 22 would reply.
"But I am designated Number 4!" "What ever you say kid, but to me you're just a kid, hardly 50 orbits old." " So what do you need sonny?"
The 7 foot wall of steel would then go silent for a few seconds and explain his requirements. As Number 4 would leave, Charlie would turn to the glass container on the wall that said, in case of emergency break glass, and say "look at that Prudence, he may be a bit slow up top, but he carries two tons of cabling like it was a bag of popcorn". Prudence didn't reply, Prudence never did, but whilst Charlie went about his business happily whistling to himself as he went down the aisles carefully disorganizing the new stock, her eyes slowly followed him.
---